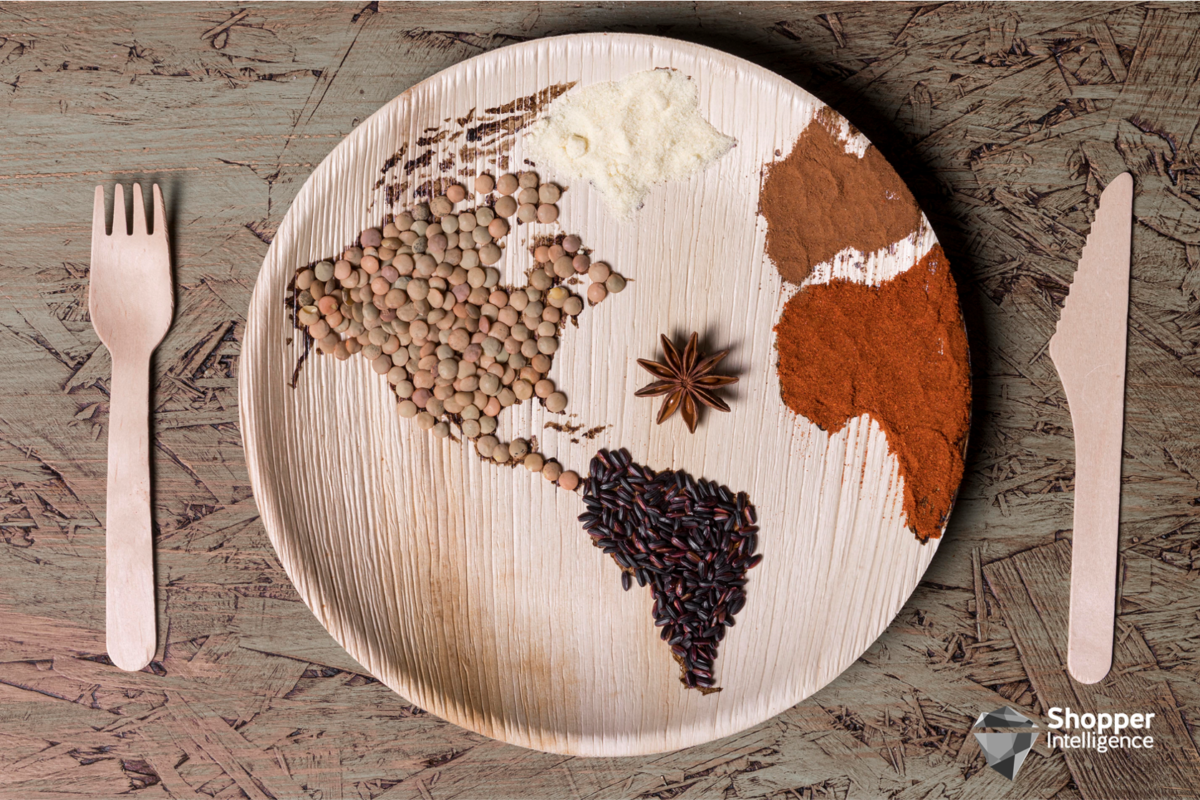 We all cook World Foods on Instagram. But what happens in-store?
These insights were first published as part of The Grocer's World Foods Category Report 2020 (Nov 2020). Figures have been updated to reflect our most recent data.
Do you miss eating out during the pandemic? Dream about your favourite restaurant's flavours – let it be Asian, Indian, Mexican, French or Italian cuisine? Most of us do. However, many are learning to prepare those meals themselves – ready for posting on Instagram! It's no wonder that recreating restaurant experience at home, and virtual cooking classes are also emerging trends.
Several experts predict we will cook more World Foods at home in 2021. "Consumers spice up their weekly routines by experimenting with global flavors and recipes" (Kroger's Top 7 Food Trends). They "will seek out food from cultures they may not have previously been familiar with, […] making the dishes at home with some help from the experts themselves" (Delish's 15 Food Trends in 2021).
Now that we see how relevant the World Foods category is nowadays for shoppers, let's take a look at our survey data!
World Cuisine is certainly a category that garners high engagement from shoppers. 17% of shoppers who buy World Foods say they like to browse the products before purchase because they are 'interested to look around'. However, in the average category, only 12% browse because they are interested. What can this mean for Category Managers? As shoppers are less on autopilot in the category, it's worth to make the shopping environment an enjoyable experience with displays, engaging POS materials and a wide range.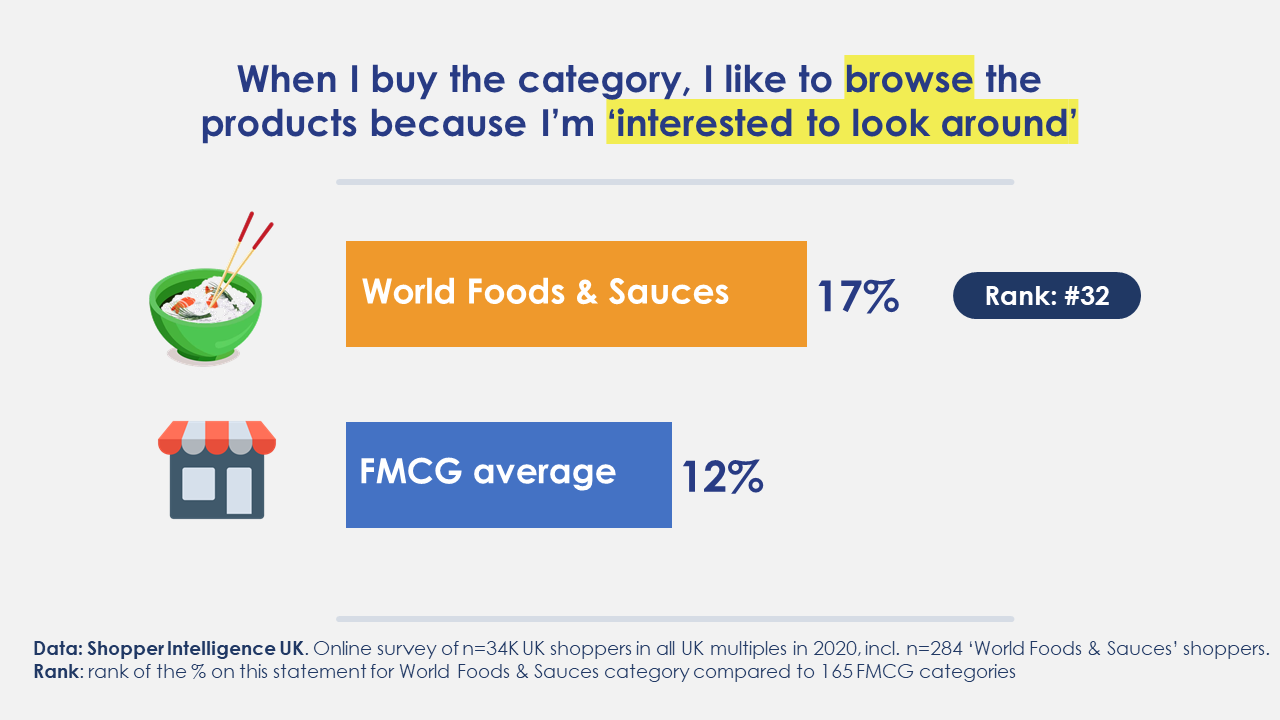 Not only do shoppers like to browse more, they also take longer at the shelf. Using video glasses in real supermarket environment, Shopper Intelligence measured shopper behaviour for every category at store. World Cuisine shoppers spend approximately 40 seconds browsing and buying the category, compared to the average category which gets around 30 seconds. That extra 10 seconds could be crucial in driving growth if the right strategies are employed to seal the deal.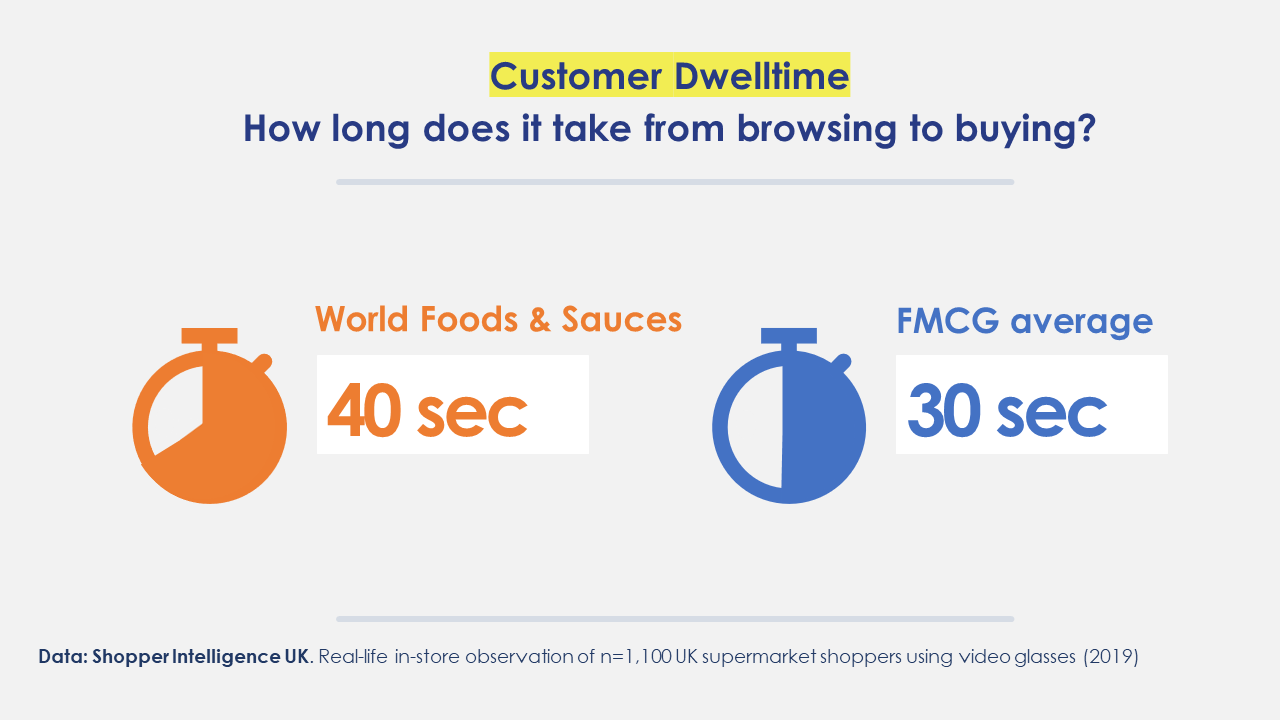 How to drive sales in World Foods?
What improvements do shoppers want in store? Inspiration and ideas! Typically a meal solution category, shoppers are looking for ideas for dinner. A lot of shoppers explicitly request 'more inspiration' as the top priority. World Foods has the 11th highest % of shoppers who want improvement in this area (out of 165 categories). Therefore, one approach to drive growth could be through more ideas and inspiration at the fixture for shoppers. (Download our free PDF guide on how to use shopper satisfaction and priority measures to identify improvement points with each retailer partner).
How to inspire? Flavour is one way in which this inspiration could take shape. 41% of World Cuisine shoppers are specifically planning to buy a 'particular flavour' when they come to store versus only 24% for the average category. Signage and recipes based around flavour can help drive shoppers to a more premium purchase.
Where do you lose most shoppers on the purchase funnel? It's important to know because if you can identify the weakest point, you know where to intervene. The step where World Cuisine falls down is the conversion from seeing to buying. While 28% of shoppers typically look at World Cuisine products in-store, only 7% of those (who look) will also buy. This is 3x higher in the average FMCG category (21% conversion).
Keep the above in mind and make it easier for shoppers who engage with the category to go on and buy it.
Find more category analysis on our blog (for example Home Baking and Dairy). Interested in other shopper insights? Look around in our Resources section! Got questions about your categories? Contact us to speak to an expert.
All data in this blog post by Shopper Intelligence UK. Online survey of n=34,700 UK shoppers in all UK multiples in June-September 2020.