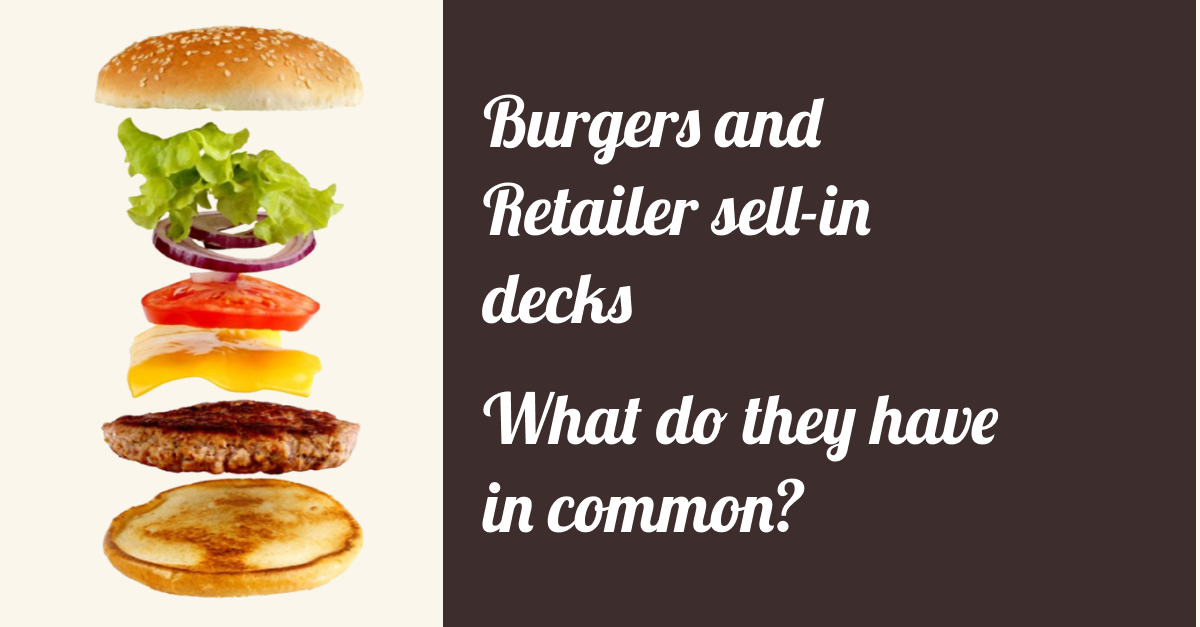 Burgers and Retailer sell-in decks, what do they have in common?
If you've been through the annual rounds of NPD sell-in days a few times, you may think that what these presentations and a big juicy Burger have in common is
Too many layers
A lot of garnish but not enough meat
The bit someone dislikes that you end up taking out (Could we call this the Gherkin slide?)
There is something soooo good about a fully loaded, perfectly made burger and it is the same goodness that makes your NPD sell-in presentation irresistible and delicious!
It comes down to two things, quality ingredients and a balanced, solid structure.
The base of the bun
The meaty (or veggie) burger
The garnish
The top of the bun.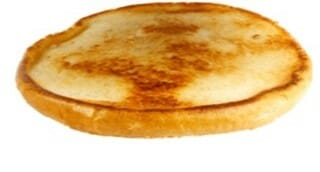 1. The base of the bun = The absolute category truths
What are the enduring truths about your category, the things that rarely change about how the category or your shoppers behave?
What do the shoppers want? Is this different to other categories and what happens if your Shopper doesn't get what they want? Relevant shopper insights can look like this.
What are the big challenges facing the whole category, can you condense the issues or the future of the category down to a sentence or two. This could look something like: "Penetration is declining, specifically in the 18-25 year age group, failing to recruit younger shoppers is impacting the longer-term health of the category".
Is there a paradigm shift or macro trend that could change the face of your category in the next 5 to 10 years? Could anything change this and expedite the shift – such as the changes we saw from the Covid pandemic?

2. The Burger = What are the critical Category levers that will drive growth
Having identified the central shopper issue or implication that forms your Category truth, what do we aim to address and how will this change the category performance?
What is the Shopper behaviour we need to start, stop or change – are purchase behaviours devaluing the Category for instance.
Do we need to introduce new shoppers to the Category?
Who do we need to target specifically (is it those 18-25 year olds again?)
In reality there are only a few levers we can pull on as Category Managers. You may have come across these as an equation or a flywheel but essentially we have 3 ingredients to our burger:
more shoppers
buying more or
buying more often
We professionally label these levers as Penetration, Average Weight of Purchase and Frequency.
We need to be crystal clear on what's impacting these, is it the shopping experience, a poor range etc so that we know exactly what to do about them.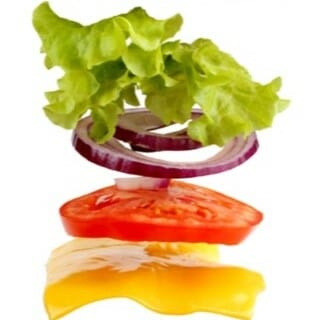 3. The Garnish – The strategies and tactics
This is where you add the flair, the flavour, the personalisation.
Once you've defined your investment level you can then offer up the menu of possibilities and tasty trade-up options (do you want fries with that?)
Based on what you've uncovered already, what do you now need to put into action to make the change?
What do you need to promise – What does the shopper need to know or believe?
What do you need to provide – What are the Products or Services that will unlock the shopper need?
What do you need to present – How will you bring this to life and get it into the baskets and hearts of the shopper? Knowing the best purchase triggers in your category can help with this.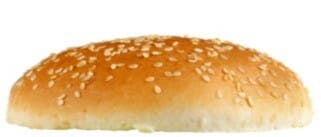 4. The top of the bun – The action plan
The ask and the offer.
Sometimes this is the bit we forget, we're in broadcast mode and too busy showing off or justifying a need with giga-charts of shopper data that we forget we're there to sell-in an idea that needs ACTION. (Read more about the What? So What? Now What? framework in our previous blog post).
Just like the top of a burger bun, you need to finish your sell-in properly. Holding everything in its place perfectly and making it easy to get hold of.
Have you thought about what success looks like for your Retailer and their shopper? How will you get there, how will you know you've achieved success and how will you measure that success? How can you help make this happen and what will you need in return to be able to do this?
Is this a wasted opportunity, a throwaway chart at the end of the presentation with a half-hearted promo calendar; or is it a bespoke solution aligned to your Retailer's strategy or specific Category need? (Think about the Skill-Will matrix from this earlier blog post).
It needs to be the same, but different!
Like most things, 90% of all burgers are the same.
This can be both good and bad.
The bad is that Buyers sit through a lot of sell-in decks at the same time of year, we think ours will stand out and be different, but is it?
The good is that there should be a sense of the familiar, a reminder of the messages you've shared about the Category in your other interactions. There's no gain in trying to find new things to say and re-writing your sell in time and time again when the fact remains, the category truths from a year ago are still the category truths today. That's what makes them category truths!
Watch out! Beware of the 'Motherhood statement'
Like most things, 90% of all burgers are the same.
If you've not heard of Motherhood statements, they're the things that are likely to get the 'no shit Sherlock' response from your Buyer.
Things like 'the Category is in long-term decline'. These are smart people, respect them with some insight. They're also busy people and will respond far more favourably if you've backed up your statement with the 'So What'. This means not just having a final slide with a reiteration of the promo plan, or a perfunctory 'Thanks'. But a final flourish of the unique plan, made just for them, and the last dramatization of the critical Shopper Insight.
The Hamburger Method is such a simple yet effective way of structuring a story, you can use it to structure anything from a presentation to a paragraph. 4th graders in US schools are taught this to help them structure their essays; and if it's easy enough for the kids to use, then Millennial and Mid-life Category Managers should find it a doddle.
So, as you prepare for this year's round of Customer Strategy and NPD sell-in days, before you think about all the fancy ways you can visualise your product on shelf or online, ask yourself: Is my sell in story as irresistible and well-made as a burger?
(Now is anyone else hungry??)