A new model for Category "Role" thinking
Category Role – at the heart of category management for 20 years, but until now vague and prejudiced!
Category Role – back to the basics – but what's the problem?
Its been part of category management thinking for 20 years since my friend Dr Brian Harris developed the "8 step process" with The Partnering Group.  But to date, its been a bit of a hard matter to tackle or resolve.
The idea, of course, is deceptively simple. How should any particular category be treated – based what it is best able to contribute to the total store? Simplistically its about whether to prioritise "Traffic" (bringing shoppers to the store) or "Spend" getting them to spend more once in the store.Traffic categories are worthy of substantive investment (in price or differentiation) by the retailerbecause they can recoup the investment via more bodies coming through the door and buying other things. Spend categories are all about trading shoppers up or putting the extra items in the basket. In theory, this should be a major driver of the shopper marketing strategy.
That's why its the second step of the 8 step process, as shown below by the IGD: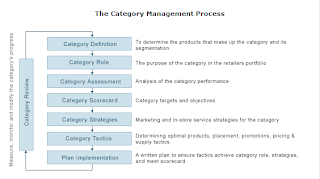 Taking simple examples, "Traffic" oriented categories would feature in store advertising with market busting deals, "Spend" oriented categories would get big displays in store and high investment in eg premium ideas.
But in many real life applications its been a hard issue to "land". The absence of hard data on the issue ends up becoming a dialogue of opinion, not fact. In reality this is a very nuanced debate. Every category has elements of spend and traffic. Also every Buyer wants their category to be deemed a traffic driver because they know it will win them more support – so arguments and proposals are inherently biased. For suppliers its a wary dialogue. For some being a traffic driver is a good place to be (do Coke or Heineken really mind if retailers cut their margins to sell 2 litre Coke or 8 packs of beer for £1/£7?), for others its a nightmare. In particular its massively frustrating to see categories where both retailer and supplier could build margin through differentiation being devasted by over dependence on price activity.
What's been missing is the right kind of data to compare categories across the supermarket.
So what's new in this discussion?
Advantage, the global FMCG benchmarking company, have developed a new shopper measurement system called Shopper Intelligence. Piloted in Australia, now operating in the UK and about to start in the USA this is a completely new systematic source of shopper insight for the Industry.  Put simply, we independently measure a large number of categories using a standardised set of criteria each year, allowing benchmarking across categories and retailers. One part of this is simple performance measures (satisfaction with price, quality, range, out of stocks innovation etc); but we also ask a range of matters that tie directly to category role.
In the UK, we therefore now have a massive data set, based each year on 90,000 individual shopper interviews across 150 categories in the top 4 multiples. Each respondent tells us about a specific interaction with an individual category in one retailer.This creates a database unique in the world. A perfect tool to use to examine the question of category role.

If you are following so far, well done, you are a true enthusiast. so lets get onto the analysis and outcomes.
What we sought to achieve – creating a unique fingerprint for each category
We wanted to understand what shopper perceptions and behaviours differentiated categories across the store. Which measures gave evidence that categories were indeed fundamentally different in the way they operate.
Using this, we wanted to define what the different kinds of categories were, defined in terms of key differences in these measures. We call this the "shopper mindset" model. From this we sought to create a unique "fingerprint" for each category – a distinctive way to compare the characteristics of all categories in a store using a standard tool.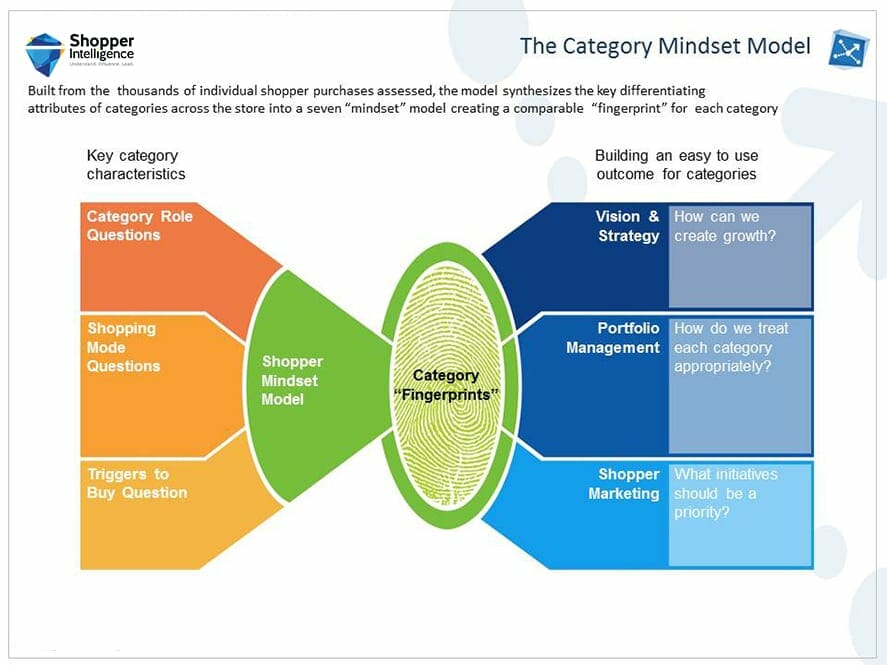 For the research 'geeks', please do feel free to contact me for the technical details. But in essence this is a large segmentation task using about 12 measures reduced into a number of drivers.
The Outcome – 7 Mindsets across the store
So much for method. Where did this take us?
We determined there are 7 key mindsets operating across the store. First, these are driven by the extent of planning (categories are either on the "shopping list" or decided in store). Second, they are bought with greater browsing or just by "grab and go". Third, they have greater ability to drive Spend (Shoppers themselves will agree they are tempted to buy more expensive, or different items), or Traffic (they are categories shoppers say will drive the trip, or influence store choice). (Its interesting to note that these are the most differentiating aspects of shopper thinking and behaviour)
Here are the seven resulting "shopper mindset" segments; named in a way that summarises their differences I hope: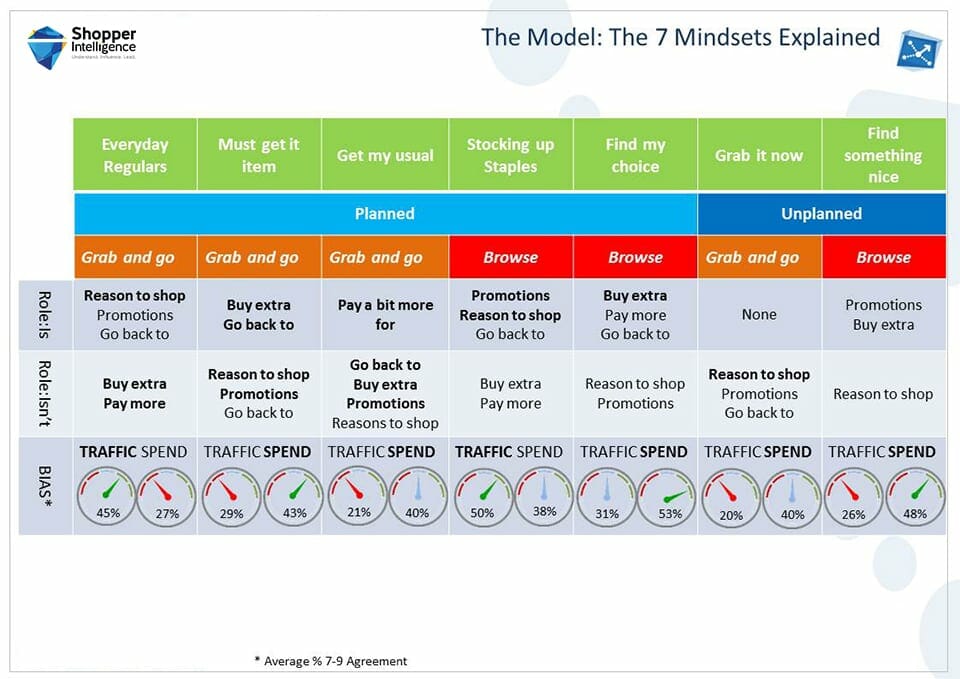 So, how does this the new Model help us think about Category Role and Strategy?
First, we can see which categories typify each Mindset (I call them Mindset Archetypes). These are categories with one mindset dominant. I love this outcome because we can start to see that all the classic category thinking now is made sense of within this model. And it applies right across the store. Fascinating (and potentially powerful) to have the insight that Fem Hygiene is similar in mindset to Herbs and Spices! Similar in that they are both highly planned pre-trip and the shopper knows exactly what they need/want to buy.
This model helps us understand the kind of marketing approach that makes sense for categories strong on these mindsets. Of course this has to be developed in detail for any specific category but the mindset profile immediately suggests the most suitable Shopper Marketing approaches:
Creating the Fingerprints
Each category has a unique "Fingerprint" that summarises in one simple outcome its true character and ultimately what Role it should play:
So Toilet Paper is balanced between "Finding my Choice" for shoppers who (I guess) are more brand loyal and "Must get item" who are simply cupboard stocking
In contrast, to pick another random example . Chilled Pizza is much more about either searching out something for dinner tonight ("find something nice") or just grabbing something quick to eat ("Grab it now")
In summary these new Fingerprints at last provide a complete view of the dynamics of each category in a way that allows full and fair comparison.
What's key about this is that robust discussions can be had at a senior level with retailers of the true distinctive nature of any category, in context compared to the entire store.
For example, the top 10 Categories showing the "everyday regulars" mindset (Categories that are at the heart of the regular grocery trip) are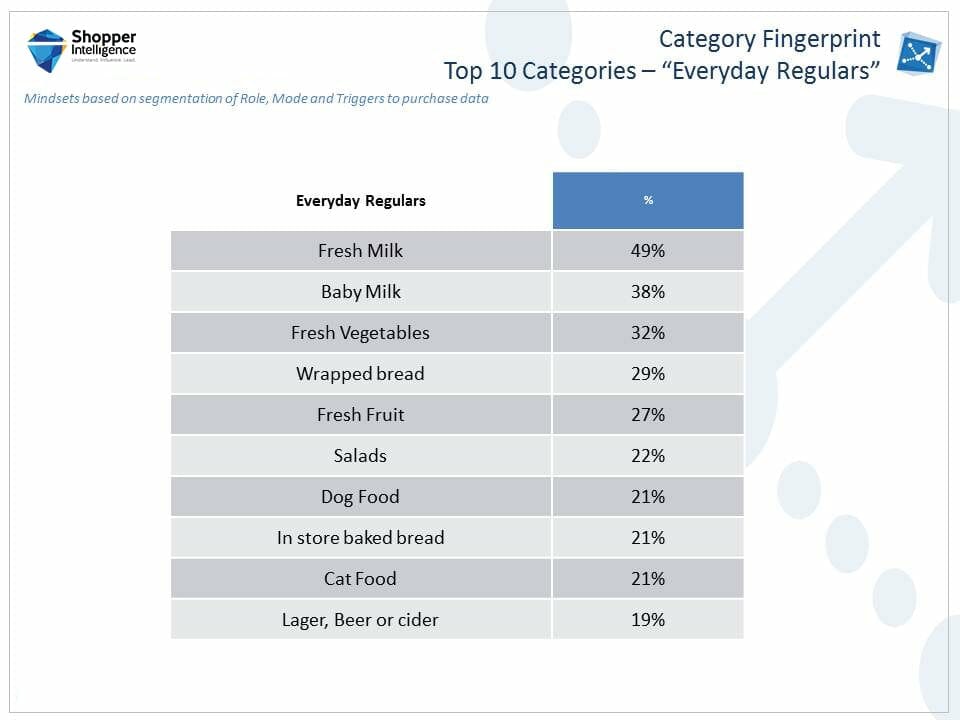 One last  BIG step – the "Holy Grail" of category role
So now we have a fingerprint for each category. Lets get back to the fundamental question, what Category "Roles" are there?
To get to this Holy Grail of Category Management, we undertook a final step in the analysis.
We looked across the data set to see what types of fingerprint there were, ie  a second segmentation process, to see how each category could be allocated to one typology (Role?).
So now we can look at the entire store based on which categories are best able to deliver what outcomes. Here is a just a snippet of this outcome, which we call "Category Typologies"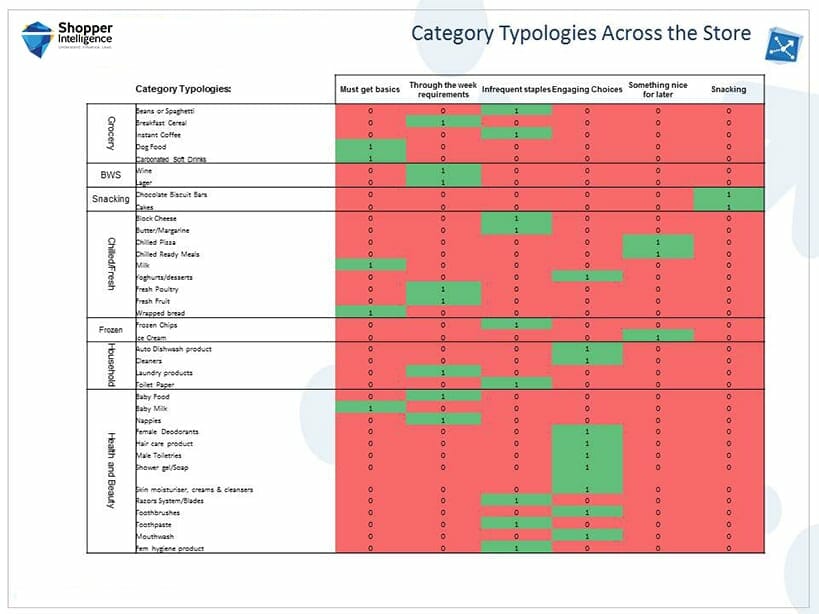 So now we can define in shopper terms, quantitatively, what each category can best deliver to the supermarket, thus how it should be prioritised and marketed.
I hope that this is of interest and genuinely moves forward all of our thinking on Category Management. Of course we can provide data specific to the categories that most interest you. Shopper Intelligence is a powerful data set driving insight on many aspects of this field. I invite you to find out more and welcome your comments on our initial work on Category Role.
For more information on the research and specifics of our data set please do contact me
Roger Jackson
Global Programme Director
Shopper Intelligence International
roger.jackson@dev.shopperintelligence.com
+44 7763 074929