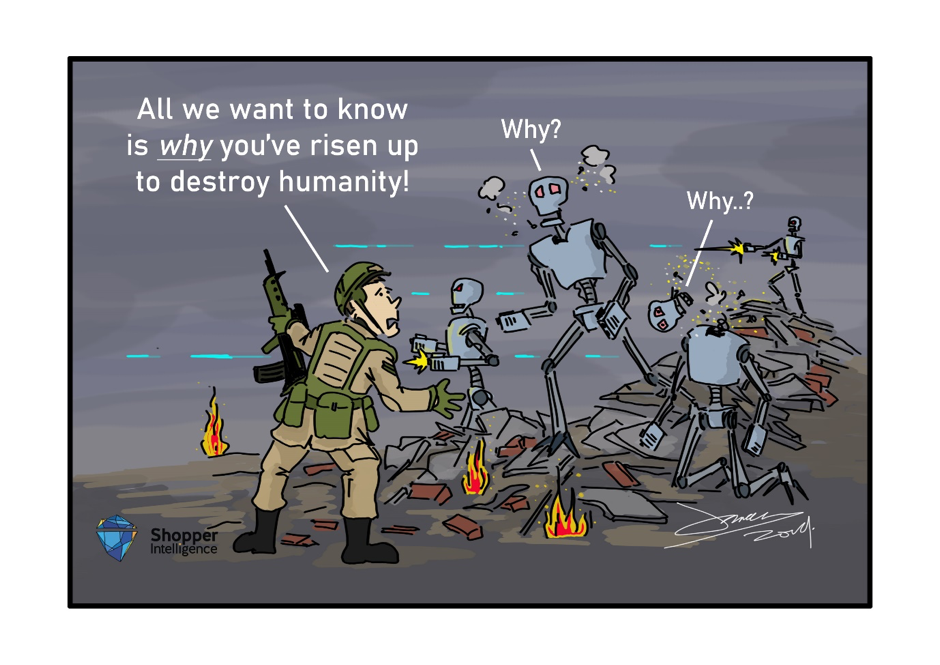 The one thing AI will never be able to help us with
AI is going to change our lives – it's going to remove so much of the mundane analysis. What's more, it's going to be able to predict things that previously we'd have had to figure out for ourselves.
Wonderful stuff, machine learning.
But don't be fooled. There is one question AI will never answer. 
It won't be able to answer the question "why?". I have even heard AI being described as "dumb" which is a bit of an oxymoron! Even if it has come up with a fantastic algorithm to save you hours of working out what's happening, machine learning has no idea why that algorithm is the way it is.
You can't ask AI how it came up with the answer. It doesn't know.
For most of our businesses that means AI won't give them the fundamental thing they need – to understand the causes of customer/shopper behaviour so they can figure out ways to adapt the products and services to exploit them. For sure, AI will help business work more efficiently. Whether its stock planning, assortment efficiency, pricing optimization – undoubtedly AI will soon help us sweat the small stuff brilliantly. But in terms of identifying how to get new consumption or meeting new needs. I doubt it. 
The answering of "why" and all the resulting thought implications is more in the territory of "general AI" not machine learning. And that's a long, long way off, not in most of our careers.
The best advice I heard was from Google AI who said: "work out what you want AI to find/correlate/deduce, then we can design the AI to achieve that (probably)". 
But what if you don't know what you are looking for? Only humans have the innate ability to stretch beyond the facts into the "so what". A leap that is intuitive more than pure logic. The good news is that this is the fun part of what we do anyway, and more of us will spend more of our time on that, not on the analytical bits.
The implication for anyone in the data business is to get better at delivering the "so what's" and get closer to business needs, i.e. get your head out of the analysis more often! Get better at asking and answering "Why?"
It's what fuels our programs. We focus on why shoppers do what they do.